Quality Work Throughout Southern Wisconsin for Over 75 Years!
ADAMS & SONS is a Janesville based Roofing, Siding & Insulation company that has been family owned and operated by the ADAMS family since 1941 when it was founded by Maurice C. and Virginia L. Adams. ADAMS & SONS Roofing, Siding & Insulation is currently operated by two of their sons Maurice, and Steve. Adams and are known for their quality Roofing, Siding & Insulating work throughout South Central Wisconsin. We are fully insured with proper limits and coverage for a roofing contractor (certificate of insurance furnished upon request.)
Responsible Company that Performs Work in a Professional Manner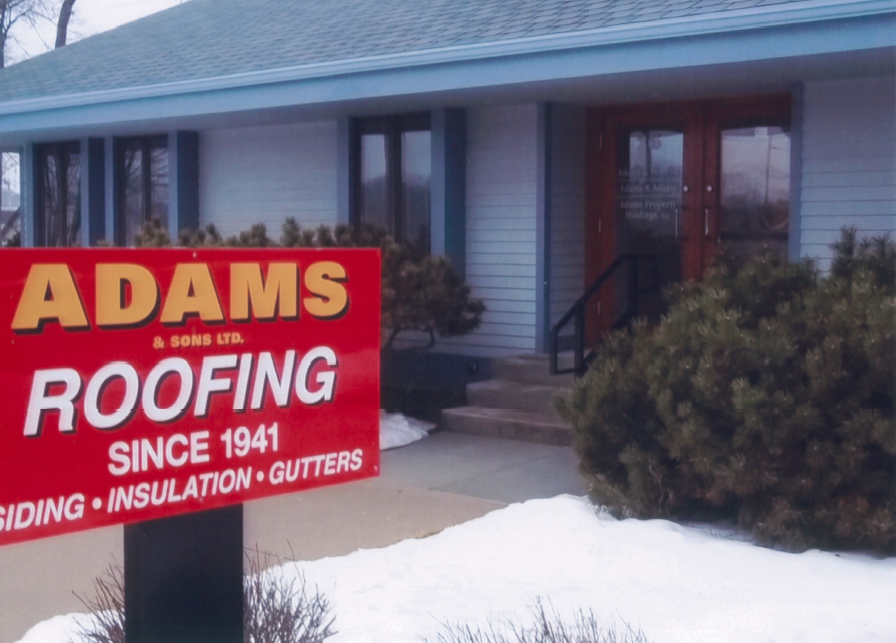 ADAMS & SONS Roofing, Siding & Insulation are approved contractors by several manufactures to install and warrant their products such as IKO Shield Pro Plus, Mule Hide, Versico, Certainteed Select Shingle Master, EPMD rubber membrane, TPO membrane, built-up (hot asphalt), modified bitumen and several lines of standard and architectural shingles. All of our Employees are experienced and quality trained  to do the work safely in an efficient manner.
We are certified in the following: 
State of Wisconsin Dwelling Contractor Certification
Dwelling Contractor Qualifier Certification
State of Wisconsin Lead Safe Co Certified
We are proud members of the following:
South Central Wisconsin Builders Association
Midwest Roofing Contractors Association
National Roofing Contractors Association
Forward Janesville Chamber
Experience That Will Work For You!
ADAMS & SONS are experienced specialists in older & existing homes, residential & commercial roofing projects, agricultural projects, industrial buildings, reroofs, tear offs, plywood & specialty jobs, shingles and flat work. We do small jobs such as porches, garage, small flat roofed areas and larger projects (large older homes, barns, small to midsize commercial, retail, industrial) and specialty jobs requiring coordination with other contractors.
We work with all types of Shingles:
Fiberglass, 3-in-1, Architectural, Designer, Specialty, Flat Roofs (including rubber, white or black)
Our Insulation work includes:
insulation of attics and sidewalls of existing and older homes using fiberglass insulation products. We do siding and trim work using solid vinyl (many styles, shapes and colors). Steel and aluminum siding and trim including overhangs (soffit and facia, window and door wraps, special storm doors and windows.
Our services also include rain gutters using:
Seamless Aluminum,  Steel,  K-style (Box) 5″ / 6″  &  3″ / 4″ / 5″ downspouts.  Half Round Galvanized 5″ / 6″,  &  3″ / 4″ / 5″,  Round Corrugated downspouts and flo free leaf guard system.
 You Can Trust ADAMS To Do The Job Right!
Contact us today for an honest and detailed estimate and to learn more about us by calling us at (608) 754-3385 (a call to our office will be greeted by our office staff, not a machine) or by visiting our contact page here.